Where is your new mailbox?
Presently we are working on a plan where homeowners at their own expense can add a locking feature to their mailbox. Stand By!
You will be getting a new mailbox probably by mid-October now.

COMMUNITY GARAGE SALE NOVEMBER 4, 2017
Start now to collect the items you want to sell for extra Holiday Dollars!

Hurricane Irma Yard Debris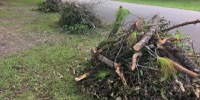 Hurricane Irma Yard Debris Collection Update
Did you know, the amount of yard debris left by Hurricane Irma is more than the City of Orlando would normally collect over 4.5 years? Since the hurricane, our crews have been working seven days a week to pick up this debris.
Here's what you can expect during the cleanup process:
Bags and Bundles
Bags and small bundles (using duct tape or twine) will be picked up sooner than large piles that require a claw truck. On your regular yard waste collection day, bagged and bundled items will be collected. Because of the volume, we might not get to your street on your scheduled day, but will do our best to pick up the following week.
Large Items
Our crews that collect larger items like downed trees, limbs, and branches are working 12-hour shifts, seven days a week, but have a limited capacity to pick up large quantities. To supplement efforts, the city utilizes debris contractors to assist after storms. However, because of the impact of Hurricanes Irma and Harvey, contractors are in short supply as they respond across Florida and Texas. Our contractors are responding as quickly as they can to assist with our cleanup efforts.


Here's how you can help:
1. Bag and bundle as much of your vegetative debris as possible. If you can, help your neighbors, who might need assistance, bag and bundle their debris.
2. You can immediately drop off yard debris at one of
11 sites throughout Orange County
from 7 a.m. - 7 p.m. daily.
3. Remember to place all large debris on the curb.

Do not place debris in the roadway, on sidewalks or near fire hydrants.

If you have larger items such as appliances or furniture that were damaged in the storm, please call 407.246.2314 (Monday-Friday, 8 a.m.- 5 p.m.) to schedule a large-item pickup.
We appreciate your partnership and your patience as we continue to clean up our City Beautiful.
!!PARKING!!

We have a parking problem!!
Some people have trouble getting out of their driveways!
Please use common sense when you park cars are on both sides of a street. A fire truck, Ambulance, Garbage Truck, or delivery trucks need to get through!


Next Board Meeting is Monday, January 8, 6:30 PM

at Dover Shores Community Center