WELCOME TO OUR NEIGHBORHOOD WATCH


Crime Prevention

Deputy First Class Richard Conner from Orange County Sheriff's Office
Dear Community, Just a reminder about securing your vehicles and residence. A lot of the vehicle burglaries continue to be a result of unlocked vehicles (Car hopping). Please remember to remove valuables from your vehicle and "lock it up." Please take the time to conduct an inventory of your electronics and other valuables in your homes. Keep a record of serial and model numbers. Take photographs of jewelry and other items with no serial numbers. Doing this may help get your belongings back if you should be the unfortunate victim of a burglary. The Orange County Sheriff's Office Crime prevention Unit conducts residential surveys on your residence for free. This survey is to point out areas needing improvement to help better secure your home. Please be aggressive in identifying and reporting any suspicious activity and actual crimes in progress within the community via 911 or 407-836-4357(HELP). Orange County Sheriff's Office Crime Prevention Unit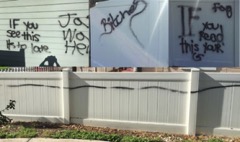 By these three young men



If you see them please call 911. Do not approach.
CLICK HERE TO VIEW SECURITY VIDEO
Neighborhood Watch Alert!
Graffiti Stuck our fence on Grant Station. Were able to get rid of it quickly and send a report to the OPD Gang Force


WE NEED VOLUNTEER BLOCK CAPTAINS FOR EACH STREET IN GRANT STATION. THERE WILL BE ONLY TWO MEETINGS REQUIRED PER YEAR. LET'S WORK TOGETHER TO MAKE OUR NEIGHBORHOOD SAFER!

More Graffiti on the OUC Utility pole has been cleaned off.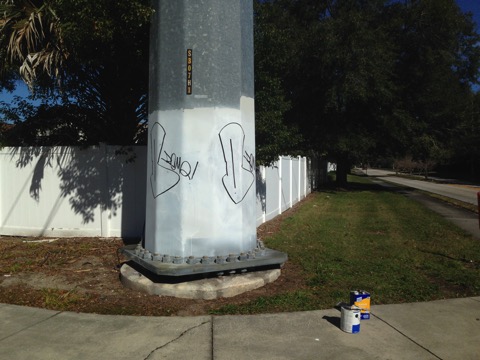 Due to a recommendation by The Orlando Police Dept. our back gate is now locked.
If you require access please send your request to:
info@GrantStationHOA.com

Watch for Suspicious Activity!
A suspicious activity is an occurrence that is out of place and should not be happening in your neighborhood. Report these incidents to the police department. Talk about the problem with your neighbors.

What is Suspicious Activity?

Someone screaming or shouting for help

Someone looking into windows and parked cars

Unusual noises

Property being taken out of houses where no one is at home.

Cars, vans or trucks moving slowly without apparent destination, or without lights

Anyone being forced into a vehicle

A stranger sitting in a car or stopping to talk to a child

Abandoned cars